From the factory some Wk2 Grand Cherokee's come with Air ride air suspension. This setup rides nice on the road but as soon as you head off road it leaves a lot to be desired. The shocks seemed to be underdamped especially when you put a little bit of weight on the vehicle. Worse even when you lift the Jeep to Offroad 1, the shocks start knocking pretty bad as they top out easily and this boarders on off putting when in Offroad 2 as they knock like mad. Couple that with the fact that if something does go wrong with your air suspension it's a hassle to fix (limping home off the tracks riding on your bump stops) and is very expensive to repair.
I had made my own sensor links to fool the computer and allow the wk2 to permanently stay 35mm higher while thinking this was normal ride height to run larger tyres. I added some rear shock spacers which fixed the rear shocks knocking, but the front was still a major issue. Even on sealed roads you couldn't drive over 30 km/hr on certain speed humps. A strut top spacer can be used for the front but we found our standard 10mm thick ones offered very little benefit. We then tried a 40mm spacer. Now this had the desired effect but was a nightmare to fit as you needed to let all the nitrogen out of the system to fit it. (a 30mm spacer probably would have not required this.) This then involves towing the jeep back to a dealership to refill the system. That sucks and no one wants to do that.
Even with the spacers you still have the concern of the air system failing off road and the factory struts as well as having shocks that are underdamped. Great for levelling out the caravan though. Also not to mention after 150,000 km you should also probably change your dampers for new ones anyway as they wear out. I don't tow caravans so I needed the air system out.
So we opted to replace the air suspension with Steel springs. And here is how to do that.
Step 1. Purchase a lift kit from your favourite supplier. There are many. I opted for a mix of Dobinson struts and Murchison Products coils
Step 2. Purchase some second hand factory front struts from a wrecker as you need the strut top hat and dust boot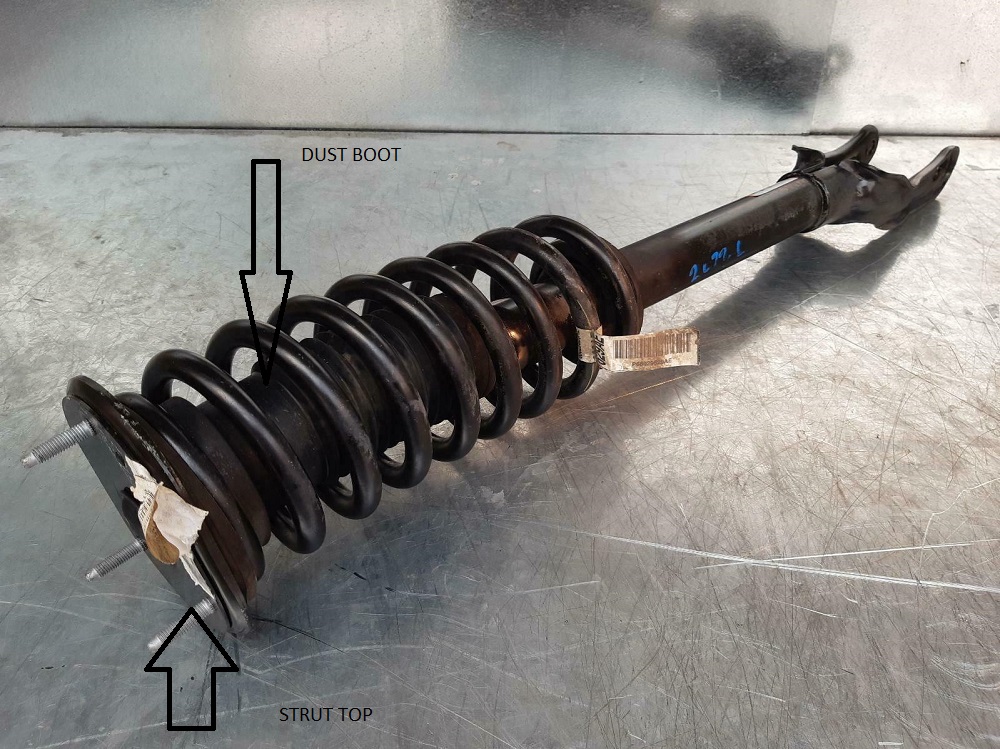 Step 3. Using a wall mounted spring clamp (get a shop to do this for you,) remove the strut top hat and dust boot off the factory strut you just purchased
Step 4. Install the new spring, strut top hat and dust boot on the new struts you just bought
Step 5. Remove the air springs, struts and rear shocks. This job sucks and involves taking out a cv joint just to get the struts off the car. If this worries you get a shop to do it.
Step 6. Install the new front struts, and rear coils and shocks
Step 7. Remove the air compressor and tie off all the old air lines
Step 8. I'm still researching this one, but it involves finding a way to get the computer to not say service air suspension every time you start the car.
So now that same speed bump that was harsh as at 30 km/hr is smooth at 60 km/hr. Off road the vehicle is more capable and composed and even on road just as nice as before. All in all, very happy having a lift to accommodate larger tyres and robust steel springs that wont let me down offroad with failures. All the great off road benefits of the Quadra drive 2 and steel springs is perfect for my set up.